All Snakebite City Compilations can bought direct from:
Bluefiremusic by sending a cheque to PO Box 16, Aldershot.GU12 5XY. England
Through the shops via Shellshock Distribution (worldwide)
All Snakebite City comps are £4.99 (or EUROPE 10 euro or to US $10 )
inc postage!
special offer! - Buy 3 vols for £12.00 (when buying by post from Bluefiremusic
Snakebite City Eleven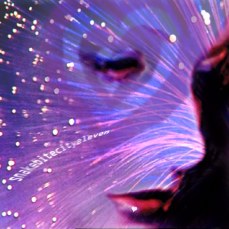 Tracklisting:-
Scarlet Soho - Receiving Order
Riviera - Lya Taboo
Carmel Morris - Illegal Operation
Meanwhile Back in Communist Russia - Delay/Decay/Attack
Vic Twenty - Ibiza Mon Amour
Schmoof - Chocolate Boyfriend
Deadbeat Radicals - Cool
Motormark - Ringo (225 bpm remix)
Vis the Spoon (feat. Lunch) - Transcience (Gusset mix)
Carfax - My Fallen Angel
The Reject Club - Strange Times at Junior High
Riviera - Pick Up Star
Vic Twenty - Kiss You
Motormark - Yes Ya Si Oui
Ex-Rental - Sophie's Audition
Gussett - Dodgy
Ciccone - Let the Alcohol Control Your Body
Schmoof - Sweet Child O'Mine
Scarlet Soho - Disconnected
Sunnyvale Noise Sub Element - I Love You Every Time You Smile
David Devant & His Spirit Wife - Oh No
Macondo - Local Boy'z
Snakebite City Ten
Distribution: Shellshock Cat BLU16A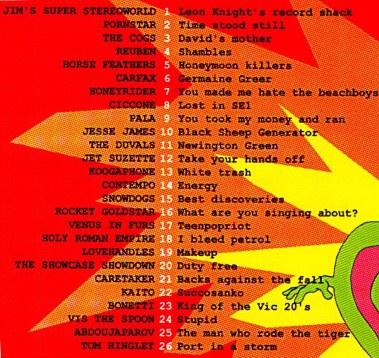 It's back…. The long awaited sequel in the Snakebite City saga - this time bigger than ever featuring 26 artists from all around the world and still retailing for only £4.99!
Hailed by many as the SHINE or NOW compilation of the fanzine/underground circuit Snakebite City compilations over the years have featured many bands before they got signed inc: Bis, High Fidelity, Vex Red, The Crocketts, Crackout, Seafood , Action Spectacular to name but a few…..
Hightlights of this volume inc:
Horse Feathers - sleazy TexMex lo-fi from Birmingham. Cowboy music for people who live in cities!
Jim's Super Stereoworld & Abdoujaparov - both halves of Carter USM
Venus in Furs - A gang of nite-club starlets out on the razzle - a dash of Monroe, a sprinkling of Dietrich, a twist of Dean, a splash of Vodka and a generous dousing of glitter and a classy cocktail umbrella!
Rocket Goldstar - Cardiff's answer to the Flaming Lips. The song on this CD is being used by Sky Sports for Premiership footie.
Carfax - Mikey Vessel `s (David Devant & His Spirit Wife) new project
Lovehandles - all grrrll pop punk from Belgium
Tom Hingley - the main man from the Inspiral Carpets
Honeyrider - from the USA, sounding more like Beach Boys than the Beach Boys!!!!
Ciccone - scuzzed up boy/girl pop with loud guitars with spiky keyboards & disco beats & underwear throwing………..
Copies of Snakebite City Ten can be obtained from most record shops or for only £4.99 inc p&p from Bluefiremusic at the usual address. YOUR HELP IS NEEDED TO SPREAD THE WORD!!
FOR PHOTOS + DETAILS OF THE SC10 BANDS CLICK HERE!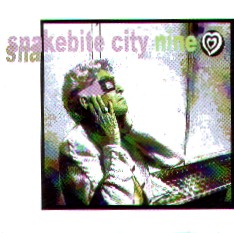 Snakebite City 9 - £4.99 inc p&p - CD ONLY
Tracklisting
Salena Saliva - Fake
Lunch = Regulations
Scribble - Sexual persuaders
Kilter - Spitting teeth (Geronimo mix)
The Samurai Seven - Bonnet
Holy Roman Empire - Benazir Bhutto
Nebula - Magazine Queen
Dreyfuss - Kitty Jr
Twist - She makes me
The Beatmolls - Wendy Wannabe
Action Heroes - Pornography
Vow - One last adventure before Monday
Goldfish Kiss - Dozy little fucker
Twister - This flat ain't big enough for the both of us
The Saffs - Don't want to hate you (but it's easy)
Vis the Spoon - Bastard son of John Cooper Clarke
The Flying Medallions - Holiday romance
The Duvals - Pop for the girl
Winner - Winnipig
@tomika - Dead flowers
Gertrude - Astro surfers
The Secret Hairdresser - I'm still queasing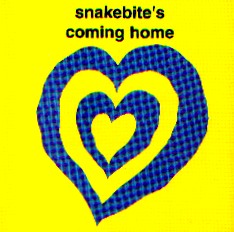 Snakebite's Coming Home - £4.99 inc p&p - CD ONLY
Tracklisting
Vis the Spoon - Snakebite City
Vex Red - Barry hug me
Union Starr - Hallelujah, Jesus here I am
Sonic Blue - Acid belly Monday
Silverstream - Proud to be naked
Vis the Spoon - Punk Rock
Winner - Something's different
TFL - Cheer up
Wench - Vest
Hobbes - You are
Royal Noise - Royal noise
Scapegoats - Channel zero
Jetpak - Cato
Dummy - Islets of Langerhan
Kilter - Spitting teeth
Vis the Spoon - Shit
@tomika - Ghost
Spotless - Turbo stalker
Polar - Polarward
Dick Savage - Circular motion
Wob - Mole, Live at Brickhouse
Gandharva - Gypsy dance
JC Regulator - Leaving on a jetplane
Snakebite City Allstars - Snakebite's Coming Home
Snakebite City 8 - £4.99 inc p&p - CD ONLY
Tracklisting
Vis the Spoon - Ocean Colour Scene Can...
Aqua Vista - Dangermen
Action Spectacular - I'm a Whore
Drugstore - Hanging on Thin Air (demo)
Pala - Machine
Co-Star - On the verge
Mogul - I was starving hungry (in Tesco's)
Anorak Girl - Teenage dream
The Scrutineers - Drinking song
Agebaby - We don't care
Seafood - We felt maroon
The Beatmolls - Space cowboys
Jonas - Mr Blue Sky
Dee-Licious - Stupid boy
Kenobi - We know nothing
Torture Orchestra - Friday night is vomit night
Beaker - No Head
The Crayons - My last Rolo
Twinkie - Mondomingo
Crackout - Volume
Nimbus - Disco punk
Cherry X - Boy 4 U
Winner - Alone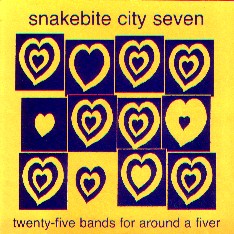 Snakebite City 7 - £4.99 inc p&p - CD ONLY
Tracklisting
Agebaby - Go go go
Tiny Too - Basement
Action Heroes - Rebel at the weekend
Vyvyan - Teenage wannabe
Peptone - Candidate for wax
Fling - The King has lost his crown
The Crocketts - Cars and Football
Co-Star - Vanilla essence
Massey - Where's the party
Girliegerm - Dogstar
Stairwell - Nothing new
Longshore Drift - Holiday
Glitterbox - I wanna be your friend
Spillage - Five alive
Inter - Game over
Moreaus Island - Carol falling
Novocaine - Analyse me
Twinkie - Social faux pas
Mascara - V sign
Spud - Cheapskate
Holy Roman Empire - Leftwinger
Disco - No phones
Travis Cut - Asmuchas
Avalanche - It must be Rock and Roll
Velodrome 2000 - Bobby Gillespie is a virgin
Snakebite City 6 - £4.99 inc p&p - CD ONLY
Tracklisting
Spacemaid - Bigger than life
PA Skinny - Chill out
Disco Pistol - Supersexy revolutionary
Dustball - Let it lie
Jolt - Sex and cheques
Sexlovebusterbaby - Steve Austin
Pullover - Liar
Taxi Driver - I'm in love
Brazen Hussies - Touch it (Hughie mix)
Carter the Unstoppable Sex Machine - Roadrage
Mercedes - Sinc
Gel - Yellow 12
Superstar Disco Club - Postcards from the edge
Sludge Nation - One last rush
Descent - Ever
Deluxor - Ecstacy
Twister - No bell at Bognor
The High Fidelity - Addicted to a TV
Spillage - Ventolin vendetta
Rotation - Crashing out
Ex Boyfriends - Tuesday afternoon
Pohoda - Talk of Los Angeles
Speedomatic - Somebody's following me
Girlfriendo - Who put the bop
Oizone - You're gorgeous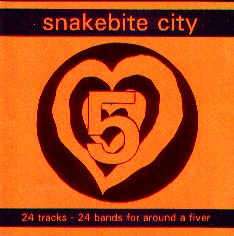 Snakebite City 5 - £4.99 inc p&p - CD ONLY
Tracklisting
Dweeb - Beat me (Bedroom Demo)
Gouge - Lippy
The Sweeney - Shut Up!
The Bigger The God - Miss Pritchard
Tongue - Controller
Midget - Camouflage
Speed Urchin - What it takes
Twister - teenage pregnancy
Inter - You lose
Posh - Rough lover
Pharmacy - Things fall apart
Freeboy - Happy new hair
Pa Skinny - TV Babies
Popstars - Brother was a Nazi
Showgirls - I wanna be you
Avalanche - Tumbledown
Furball - Open ended
Who Moved the Ground? - Angry disco
Raggity Anne - The girl with a black eye
Slender - Today I'm a shoplifter
Deaf Planet - Strangeface
Lithium Joe - Disappointed
Cleatus - Barry White
Mega City Four - Dustbowl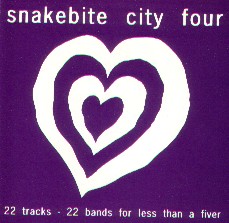 Snakebite City 4 - SOLD OUT!!!!!!!!!!
Inc:
Bis, Gouge, Pink Kross, Wact
King Fu,Apocalypse Babys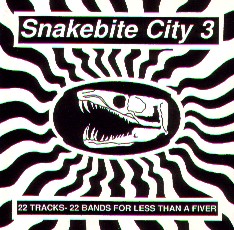 Snakebite City 3 - SOLD OUT!!!!!!!!!!!!!!!!!
Inc:
China Drum, Fabulous, Who Moved The Ground
Glory Strummers, Create!, Big Boy Tomato
Snakebite City 2 - £2.99 inc p&p - VINYL ONLY
Tracklisting
Wat Tyler - Real shocks
Anorak Lovechild - Deceivers
Who Moved the Ground? - Suffocation
Pretty Green - The wrong conclusion
Vox Pops - Dear diary
The Big Bang - Were you right?
Backlash - Traction
PKRK - Atchoum
Glory Strummers - Hip or miss
Big Boy Tomato - Jack
Ventilator - Sneakyville
Peach Razor - Limbs
Phobia - Bolthole
Catma - Future shock
Snakebite City 1 - £2.99 inc p&p - VINYL ONLY
Tracklisting
Peach Razor - Heaven
Big Boy Tomato - Weekend
Phobia - Evermore
Pretty Green - Call
Backlash - Electric groove machine
Pomeroy - Autonomy
Trousershock BC - Go
Backlash - Some kinda crazy
Peach Razor - Rip your face off
Big Boy Tomato - Duck
Trousershock BC - Here without you
Pomeroy - He's afraid
Pretty Green - Smalltown scene
Phobia - Throwing stones