Here's a few reviews.... If you want to see more - do a search on Snakebite City in www.google.com & you will find approx 300 links for reviews,etc.
VARIOUS ARTISTS: `SNAKEBITE CITY 11' - Best of the series so far. A retro-futurist guide to Home Counties electroclash and post-rock, plus the best version of `Sweet Child O' Mine' you'll ever hear.
Nightshift Magazine
SNAKEBITE CITY ELEVEN/VARIOUS ARTISTS
Whilst manufactured acts like 'Girl Aloud' sing 'Sound of the underground' it is ironic that the underground is where the brilliant music is lurking.
It's easy to get despondent and depressed if you only have todays chart music as a guide to whats happening. But creative and interesting music is alive and well and lurking in the grooves of indepedant compilations like this one put out by Bluefire and others put out by Future Legend Records(See Cult themes & Box Office Poision).
If Last years
'Cult themes from the 80's(FLR)
was the stand out release. This year I think this Snakebite city (The 11th in the series) will prove hard to beat. It is probably one of the best compilations of original talents I have heard in a very long time. It's not often you get a compilation with 22 tracks on and can say there is no duff tracks on it. Of course some tracks on it are better than others. Chocholate Boyfriend by
Schmoof
is the masterpiece of this netherworld of indie talent.
The album as a whole has an electronic slant and it's no suprise to learn that acts like Riviera are now working with Nick Rhodes of Duran Duran. Strangely there are some more guitar heavy tracks. These too are Ok although feature less originality in the songwriting department.
Surely 'Gussett' didn't really expect to get away with totally ripping off 'Splodgenessabounds' classic 'Two pints of larger and a packet crisps' with their track 'Dodgy'. I actually still liked the track as it had a certain charm, but since I'm a big fan of Originality I felt a bit let down here. It's always good to discover new talent and although many acts featured play live I had only heard of two of the acts before. The excellent
Carmel Morris
(See review on this page of her album). The other was David Devant and his Spirit wife who had a brief stab at chart stardom a few years ago. Althright some of the music is heavily influence by new romantic stuff but all in all if something fresh and infectous is your bag this album is essential for your collection.I'd like to do a more indepth review of this album but time and space do not alow this for now but you can get more details by clicking on Bluefire Record. (reviewed by Russell)
Dedicated follower fanzine

SNAKEBITE CITY TEN
The Snakebite City albums are now onto their tenth excursion. Basically if you're a new indie band you want to get on one of these compos! What we have is a quite amazing twenty six tracks for only a fiver!!! Previous outings from the Snakebite crew have introduced the record buying world to Bis, Drugstore, Seafood and so on. The question to be asked then was what unearthed gems are on this baby?
Well, with so many tracks you are going to get your share of dross (so we'll deal with that first). Pornstar's 'Time Stood Still' is a bad Placebo song which obviously makes it very bad indeed! Hopefully they can and will do better. Tom Hingley (ex Inspiral Carpets) also fails to impress with his 'Port In The Storm'. It seems like Mr Boon was the one who had all the talent as this droning number certainly isn't up to much..
Let's not veer on the negative though. There are a bundle of unearthed gems here. The Cogs' 'David's Mother' is a piece of pure punk genius with some of the funniest lyrics I've heard in years. Holy Roman Empire (the best band name ever) on the other hand prove themselves to be indie pop geniuses of the highest order. 'I Bleed Petrol' should be number one for the next ten years. Honrable mentions also have to go to The Duvals, Carfax (David Devant's new project), Caretaker and Abdoujaparov. All of these buggers have provided nuggets of musical wonderment.
DROWNED IN SOUND - 1ST REVIEW JULY 2001
"Now! That's What I Call Indie Volume 10" is out at long last and the world cheers. Bluefire Records have been breaking new music and resuscitating missing - presumed dead careers for over five years now.
An example of the second type appears on track one, Jims Super Stereoworld contribute a minimalist pop song with backing from a C64. Abdoujaparov also appear later on, showing both bits of Carter USM are still alive and well.
New indiepunk is very much in evidence. Pornstar rock very hard, The Cogs sound like Pink Kross jamming with The Donnas. Reuben (formerly Angel) drop out from their usual neo grunge to go all Smashing Pumpkins vs Placebo on us, except with a piano break at the end - odd.
SBC also likes it's punkpop, and you don't get much more punkpopwithglitterandeverything than Venus In Furs doing "Teenpopriot" or Ciccone ramraiding Greece with Bis's drum machine and the Batman bassline in "Lost In SE1". Holy Roman Empire continue on their backed-by-a-kareoke-machine pop mission, but unbelievably sound like they're singing a trendy church hymn. Trust me.
Other highlights include Contempo sounding like a less Welsh SFA, and Kaito doing a very good impression of a female fronted version of The Fall. With 26 tracks (and at least three quarters of those listenable) this is a bargain at a fiver.
Author: Andrew Thomas (quirk / indiecentExposure)
drowned in sound - 2ND REVIEW JULY 2001
If you ignore "Snakebite's Coming Home", this is an anniversary edition of the ever-evolving Snakebite City. Previous issues saw bands that made it halfway big in indie-terms. Just think of Bis or The Crocketts. And, no exception here, Snakebite City Ten comes with a handful of "name" bands, such as Jim's Super Stereoworld or Tom Hingley, along with a bunch of artists that have been operating on a smaller scale for quite some time now (Cicconé, Venus in Furs, Caretaker).
As for the other bands on here, it's nice to see that keyboard-obsessed popsters The Holy Roman Empire are still going and that the "master of the commercial break", namely Vis The Spoon, hasn't given up ranting just yet. Standout tracks in the first half are The Cogs' "David's Mother", that sounds like Placebo downing Gin Tonics with The Kinks in your local beat-disco, and Cicconé's disco epic that is "Lost in EC1".
To speak in the words of Teen Anthems, "We want a disco punk pop revolution and we want it now". And Snakebite City are the guerilla fighters for this very riotous upheaval.
Author: Julia Vergho
SCOOTERING MAGAZINE - AUGUST 2001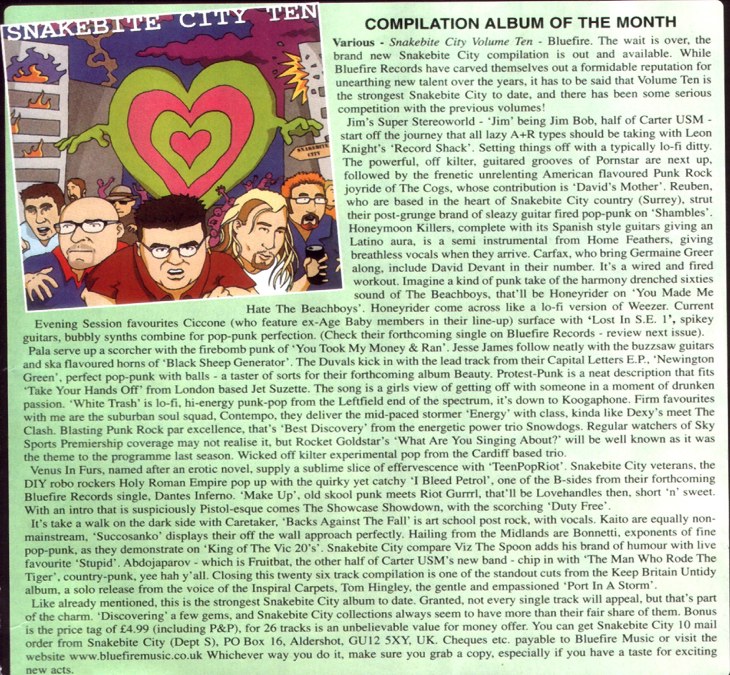 STEVE LAMACQ
THE WEEKLY SESSSION RECORD 0F THE WEEK
VARIOUS ARTISTS SNAKEBITE CITY VOLUME NINE
OK, its not a single, but It retails for about the some money a full prlce 12-Inch, so It kind of counts .For around a fiver, you get 22 attempts at the lucky dip of the Indie~pop underground. Winners Include Salena Saliva (a bleak but Intriguing track called "Fake"), "Spitting Teeth" by Kilter who had a great single out on the Shifty Disco label many moons ago and East Anglian power-popsters The Saffs with "Don't Want To Hate You (But It's Easy)". Also there's a Who's Who of the cool and the uncool on The Beatmolls' "Wendy Wannabe" and a brilliant instrumental closer from The Secret Hairdresser.
KITSCH
Snakebite City Eight
What other compilation CD could you find a British equivalent of Man or Astroman (Aqua Vista) or find a poet called Vis The Spoon who slags off Ocean Colour Scene? Face it fanzine kids... how on earth could we all live without the unique selections found on each Snakebite City CD? Do you fancy a diet of Shine and Now compilations? No, me neither. So lets hope Paul doesn't quit the snakebites.
PUDDLES Fanzine
Snakebite City is great because you know that 90% of it is good. Unlike some compilations, Paul seems to have some quality control and doesnt just bung on any old everyone. This is definately as close to "where its at" with the kids/zines/underground (delete appropriate cliche) as is possible and is consistent..... the indie compilation you can trust - someone give Paul Bluefire a knighthood!!!
SNAKEBITE CITY 8
Eight volumes in, and Snakebite City just keeps on getting better. This one has 23 tracks from 23 bands, all for a fiver. Of course, you could go to H.M.V. or Virgin and spend that fiver on a three track single, but I know where my money would be going.
Vis The Spoon opens the proceedings with a poem that isn't exactly complimentary about Ocean Colour Scene. Serves the gits right, and it's bloody funny to boot. A John Cooper Clarke for the late nineties.
There are a good few stand-out tracks on this C.D.. Action Spectacular have a schizophrenic song, "I'm A Whore", that flips between quiet romantic ballad and full-on, balls-out punk rock. Tasty.
Torture Orchestra win 'Silliest Title Of The Issue' with "Friday Night Is Vomit Night", and for straight pop\punk, "Boy 4 U" by Cherry X takes the biscuit.
The girls get a fair outing here too. Personally, I like a good female vocalist, but I get the feeling that a lot of the femme-fronted bands here have got girls behind the guitars, drums and bass as well. More power to 'em, attitude and tits are a good combination in my book. Agebaby's "We Don't Care" is a classic example, reminded me of The Ettes. A bunch of teenage girls with pints in one hand and guitars in the other!
A lot of the album is taken up by modern pop songs, showing what new bands are up to, and exposing us to the better side of tomorrow. These are the bands that you will be paying to see next year. Get in on the ground floor, get Snakebite City 8.
UNBARRED FANZINE
SNAKEBITE CITY SEVEN
BLUEFIRE promote new bands through gigs and these CDs. Paul is a hero for many unsigned bands. I got this CD ages ago, but with 26 tracks I've been dreading reviewing it. Overall it's quite a good demonstration of what's going on in the music biz with a particular lean towards London. Most of the tracks are pop sounding and some of the groups sound as though they are ready for the big time, but not too big as none of them are really mainstream.
Agebaby, for example are lively pop that you can jump up and down to, but are just wrong for Top of the Pops, Andy is just too scary and the lyrics may offend the Beeb! That said I really like the album and for under a fiver it's worth getting a copy of. Action Heroes, The Crocketts, Inter, Holy Roman Empire stand out, but my favourite is Carol Falling by Moreaus Island which is more indie rock than pop
KERRANG!
Snakebite City Six
KKKK
A state of the nation round up of (mainly ) new talent - SC6 is a diverse and entertaining collection. Excellent punky tunes outweigh any indi-schmindie dross, with pride of place going to Spillage's Blondie-esque raunch, Jolt's lurching "Sex and Cheques", Pixies loving Swedes Sludge Nation and Speedomatic's raw aggression.
SCOOTERING MAGAZINE
Snakebite City Six
25 more tracks from the label that seems to do all the hard work for lazy A & R types. Snakebite City collections are rightly regarded as cult items and should therefore be owned by everyone who claims to have an interest in the "underground" new acts. HIGHLY RECOMMENDED
CHA CHA CHA FANZINE
Snakebite City 5- Various
The fifth and fizziest collection yet, Paul Bluefire has managed to collect the fanzine's finest to devise the weapon the underground will use to fight off the NME's bland idea of C96. kanging from the twisted melancholy of The Sweeney the crazed daydreams of The Bigger The God, Twister's Teenage Pregnancy and the easy going nature of the jubilant Freeboy SC5 is the tangiest compilation of the moment bringing the best of the unknown together to prove to the industry in a bis-like way that sometimes just sometimes people can do without them without their egos and their quibbling without their verification and their support.All of the 24 bands in this collection will get bigger, increasing in popularity and acceptance until they can no longer be ignored. The underground has given their support to these bands and with SC5 how long will it be before the public do too?
RECORD COLLECTOR
VARIOUS ARTISTS: "Snakebite City 3"
VARIOUS ARTISTS: "Snakebite City 4"
The benefits afforded by cheap-to-make CDs have filtered through to indiedom a land where a healthy Marxist disregard for profit still reigns supreme, together, it seems, with an enduring affection for spumatic punk pop. The undisputed champion of this value-for-money philosophy is Aldershot-based Blueflre Records, who are knocking out 22-track indie compilations for less than a fiver. This might only be an exercise in bravado were it not for the fact that the CDs feature mainly exclusive tracks from bands as big as Bis, Skipper, Gouge and Blameless, though there's plenty of names like the Shreds and the Perfect Circles that hint that small-timers from the suburbs are also being given a voice. Top banana, and a must for the indie collector with his shell-likes to the ground. (PG)