Very Close to Beautiful - CD single Cat. No BLU26
Release date: 20 January 2003
THIS SINGLE WAS AWARDED SINGLE OF THE WEEK IN KERRANG!
Self assured three-piece nurotica release their third single on 20 January 2003. This single is taken from the forthcoming album "Don't Let the Panic Show" out on Bluefire in early March. nurotica is a celebration of individuality, an acknowledgement of the insecurities and nurosis that we all live in - the anger inside, the frustration of days and the joys of freedom.
The previous single received airplay on daytime Radio 1 (Mark Radcliffe show) and Steve Lamacq's show, as well as on XFM.
Following on from packed out nights at The Garage, Dingwalls and Camden Palace, the band will be promoting the new single with a 25-date UK tour. Details of these dates along with more information on the band can be found at
www.nurotica.co.uk
"Clearly fashioned from the corpse of Bowie in a Camden Town abattoir" KERRANG!
"Porno for Pyros with a self conscious artiness" THE GUARDIAN
"Imagine Repulsion by Roman Polanski with Bowie taking the lead" ROCKSOUND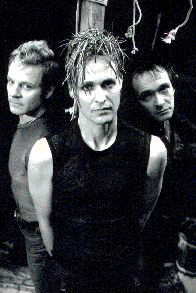 DEADBEAT RADICALS - cat BLU20 and BLU23
Crazytown release - 5 November 2001
Little Yellow Mini - release 30 July 2002
re-release 13 Jan 2003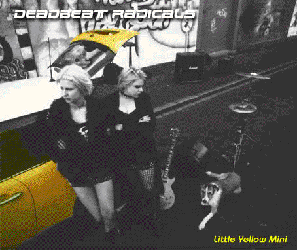 "Little Yellow Mini" is the 2nd single from Newcastle's Deadbeat Radicals- the band complete with funki-punki pop chicks LEY (Glamour-puss) and Sharon(A fine artist), Ed (London (Dj/ bass player) Tim -Programmer/guitar. (Techno-whizz-kid), Mark Cliff-beats.
This summer vibe song has all the inimitable DBR characteristics -poptastic vocal melodies, ironic humour and pop-rockin' synths and guitars.
The CD includes remixes from Jim (Jim's Super Stereoworld)), Ed DBR and Robbie from DBA/Sugarbabes and a CD rom of Video clips/logos/ pix not yet seen of DBR.
HOW MANY POPSTARS, plus equipment can U get in the back of a mini?
The band have a bought a retro-mini, painted it with yellow emulsion and intend a series of impromptu gigs down the M1, at service stations- a-la-road movie-esque stylee to promote the single. consult www.deadbeatradicals.com
Also PA at Top Shop in Oxford street, with the help of BMW yellow minis and their marketing department.
DBR's debut single received several plays on Radio1 and Xfm last year and this follow-up single is eagerly anticipated prior to the release of the Album later in the year.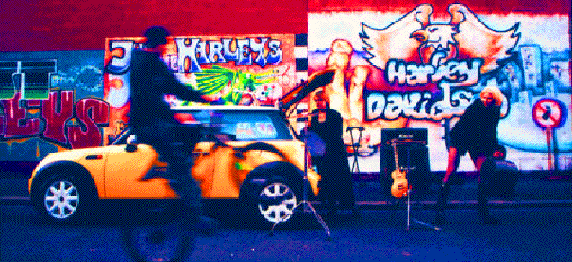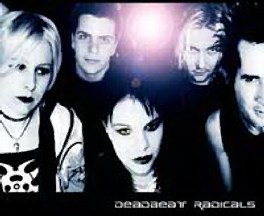 Deadbeat Radicals was formed initially in Feb 2000, when Tim and Sharon made a conscious decision to do all their songwriting on computers, instead of working with a group of often quite awkward musicians. And so the new concept was centred around the bedroom-midi-studio scenario. With their future in the hands of technology and often quite flaky gear at that, they proceeded after a very drunken new years resolution, to write their first album. The decided influences, ranged from anything from Beasty Boy style hiphop-to Bloodhound gang humoured pop-to the guitar mentality of the fun lovin criminals to the cut'n'paste of BRA and the groove of Fat Boy Slim. Do ya get it!!!
Though DEADBEAT RADICALS, certainly have their own postmodernist eclectic style. Using drum loops, toy sounding guitars out & out thrashy-ish rock with a mad sprinkle of synths over the top. And it has been said that this young sounding, sub-surf thing has a commercial vibe, but is dark humoured and edgy. Its good time, headbang if you want but, sing to the catchy bits if your pissed music.Party on down, but beware of the lyrics because underneath it all healthy skepticism about the world around us pervades.
The message beneath the gloss is quite simple. Don't be an air headed, couch potato who is aimless, dreamless and screwed up on drugs, accept at the weekend. And enjoy music, love and freedom because thats all there really is.
KOOGAPHONE
Never talk to strangers EP (producer Pat Collier)
out October 8th 2001 on Bluefire Records (cat: BLU22)
Koogaphone - the name - inspired by a telephone sex line in Poland
Distinguishing features- great hair and cheekbones, hotchpotch of musical influences
-energy of Placebo and the Pixies, darkness of a circus on acid (think Tim Burton, Kurt Weil),
the epic sound of Muse.
Reviews- Time Out - "Koogaphone are the one's to watch".
Cherry Soda zine - "Placebo's big sisters."
Organ - " rewardingly unique, refreshing, dangerously edgy, potentially glorious."
The Band
Julie- vocals, guitar, songwriter, geordie delinquent, looking foxy
Rachael- bass, vocals, Blackpool Disco Dance Champion 1998, Bunny girl 1999 and Koogaphone bassist 2001
Nick- keyboards, guitar,man of mystery and extremes. Extrovertly shy and multi talented. A clever so and so.
Matt- drummer, ladies man. Former child model, cheek bones still chiselled.
CLICK HERE FOR LIVE KOOGAPHONE PICS
For more info on Koogaphone: contact David Regan @ Optimum Management
on 020 74072215 or 0771 2615669.
www.koogaphone.com
From the Original Sin...
KOOGAPHONE Never talk to strangers (CD)(Bluefire Records)
What's Koogaphone???? Hmmm for the information's sake of business, it's a
telephone sex line in Poland. But that's not what you wanted to hear,
not???? You ask what Koogaphone sounds like, not???? Well, they're a brand
new British band who recently could be found on the legendary Snake Bite
City-compilations and this is their debut single on Bluefire Music. First
thing you're going to notice is the quite extra-ordinary voice from Julie
that automatically will remind you of new wave diva's like Lene Lovich or
Nina Hagen even if the music is a bit like early Placebo or the music
Radiohead before they discovered how coolit is to sound like the next Pink
Floyd. The music from Koogaphone sounds a bit freaky and many of you will
search up on the cover if it can't be that any member of the dismissed Daisy
Chainsaw is included on here, but don't do unnecessary work.Koogaphone are a
brand new band and with a sound that at least wil let you say : "That's
quite strange!".
CICCONE - Forget Your False Messiahs
CD ep - cat BLU21
Release Date: 25 June 2001. Distribution: Shellshock
Ciccone's name has been been touted around the last year from everywhere from the Melody Maker to the Tip Sheet to Steve Lamacq in the national press, but until now we've had nothing to back it up with, only demos recorded in our bedroom.
The first two tracks were produced by Nille Perned who did The Wannadies' `You and Me Song'. We wrote the last song at the last minute; it's a cheeky dig at Hear'Say and their ilk. Everyone who has made this single possible has worked for free because they've had faith in us. We've done all the promotional work ourselves, here it is.
In the first weeks of passing it around, the single's been playlisted by XFM, and the second song is shortlisted to be used in an upcoming film starring Helen Baxendale from `Friends'/ 'Cold Feet'.
Blurb:
We got together two years ago, spearheaded by the main songwriters of notorious band AGEBABY (Damaged Goods and Snakebite City releases, extensive Radio 1 / XFM airplay, championed on the Big Breakfast as 'the next big thing'). After re-locating to London Town we've been packing venues in the capital (The Garage, LA2 (now the Mean Fiddler), Bull & Gate, Camden HQ's, Dublin Castle) and nationwide.
Combining our eclectic tastes, our trademark is scuzzed up throwaway rock'n'roll classics; loud guitars, energetic drums, vocal harmonies and singalong choruses with spiky keyboards and disco beats. Think The Primitives or Blondie having a catfight with The Pistols, Rezillos or Buzzcocks with maybe a Blur and Elastica slant and you won't go far wrong.
In our often mental live shows we power through ten songs in thirty minutes with guitar and mike stand trashing common as is audience participation. Stage invasions and underwear throwing are always welcome. Members of Elastica and Oasis have been spotted in our audience.
Our punk-pop-disco beat and rock'n'roll antics have mightily pleased the fanzine world with enthusiastic reviews, interviews and compilations being released. Our demo MP3's have had thousands of downloads, getting us an interview in the national MP3 magazine, and a top 20 placing in the Clickmusic chart for almost all of the last year. 'La La Disco' has been choice of the month for the official MP3 review and 'Lost in SE1' was played to death on the largest student radio stations and is about to be released on Snakebite City 10 (compilation) along with the likes of Tom Hingley and Jim's Super Stereo World.
We are rabble-rousing with a stupid sense of humour. We have had interest from several major and independent record labels in the UK, U.S and Australia (releases in Australia), (fan mail from all over Europe and offers of T.V appearances), but so far no one has taken the plunge.
PUSHAUN - CD SINGLE "VA VA VOOM"
- cat BLU18 - out now! on Bluefire
| | |
| --- | --- |
| | STOP PRESS! Pushaun took part in the Gumball Motor Rally (London to Moscow via Paris, Prague etc. etc. - a 200 car rally rally with many famous celebrities taking part inc. Happy Mondays,Goldie, Tara Palmer Tomkinson,Ruby Wax and Jodie Kidd) and the Bluefire single "Va Va Voom" was the song for the event and will be used on the current Ruby Wax series . Ruby travelled with Pushaun in his stretch limo. |

The 5 track Cd single by London's Pushaun is out now to tie in as THE song for the Gumball Rally . A cracking single it is too........................... Featuring singer Pushaun
(ex - VAGO_ and all the music was performed by Ed (ex- VAGO & CAY)
To buy it or for promo copies contact info@vago.co.uk
EVENING STANDARD - 26 APRIL 2001
Gumball rally sets off with star cast By Simon de Burton
THE finer details of the 1976 film may be a dim and distant memory - but the spirit of The Gumball Rally will be relived in earnest today when 200 drivers set off on a 3,000-mile, five-day blast from Park Lane to Russia and back.
The Gumball 3000, inspired by the classic Burt Reynolds road movie Cannonball Run, is open to anyone - provided they can find the £3,000 per car entry fee and sustain 600 miles of driving each clay followed by nights of partying.
Contestants, who will win prizes in categories such as "most stylish". "most honkers" and "best Gumball spirit", include television celebrity Ruby Wax who will be travelling in a luxury motorhome; actor Keith Allen and artist Damien Hirst in a polka dot taxi, and society party planner Miss Dee, who will be making the trip on a camouflage-painted Vespa scooter - with a gold Rolls-Royce as back-up.
Jodie Kidd and Malcolm McLaren will he cruising it in a black limo, while the most senior driver taking part is Lord Montague of Beaulieu, 76. He is tackling the journey through Holland, Poland, Lithuania, Latvia and Russia in a 1930s Bentley.
Organiser Maximillion Cooper, 27, who will be in a new six-litre AC Cobra donated by fellow contestant Damon Hill, says this will be the last to be held in Europe. "It is something of a mission impossible to conquer 13 countries in a mere five days but we are. confident it can be done," said Cooper. "After Berlin, Poland and Lithuania we should end up in the centre of St Petersburg for an all-night party. Then we navigate through the forests of Finland towards Copenhagen, and finally back to London for another mammoth bash by Tuesday. It's the last true adventure of the modern era." The event is being filmed by both the BBC and MTV, which will provide daily updates on breakdowns, crashes and setbacks.
GUMBALL RALLY INFO: www.gumball3000.com
HOLY ROMAN EMPIRE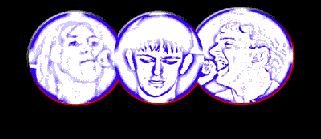 Catch Me If You Can (Bluefire Records) CD single - released July 2001
Dante's Inferno (I Bleed Petrol), Catch Me If You Can, No Tomorrow
Oxford's madcap robo-rockin' trio are something of an institution in their home city - in fact there are some locals who think HRE should be in an institution. Not that HRE are worried about that. tHEY first got together when they were studying theology at Westminster College. Early gigs were chaotic affairs - a tradition they manage to keep going today!
Their first review in Oxford's influential Nightshift magazine in February 1997 captured the essence of the fledgling band. "Holy Roman Empire are some kind of nightmare. Can't sing, can't play, look terrible. And yet, believe me they are one of the best nights out you could get." Underneath their glitter-coated exterior, Holy Roman Empire have an abundance of instantly accessible and memorable pop songs.
Unlike some self-styled serious musicians who sneer at HRE's audacity, the band have a track record of prestigious support slots under their collective belts as well as festival appearances and headline slots. All this plus a string of releases that those aforementioned sniffy individuals can only hope for in their wildest dreams.
Then there's the Friends of the Empire, the band's camp followers - and camp is the word! This band of people admire HRE's front and exist in growing numbers outside Oxford's boundaries as well as within the city of screaming tyres itself. www.holy-roman-empire.co.uk
SILVERSTREAM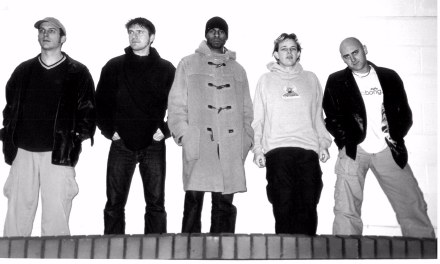 Phil - Guitar Graham - Bass Danny Jay - Vox Rick - Drums Ben - Guitar/Keyboard/Vox
"Kick Off The News" CD single
Release Date: Mon 4 June 2001 - Cat:BLU19
The future's bright, the future's silver……….
Contact Silverstream: Graham Nye - 07980 838750

™A 3-PIECE BAND SUPPLYING SPLENDID RAUCOUS NOISE POP
WITH A MELODIC CORE. BJORK MEETS SKUNK ANANSIE WITH AN ORGANIC
LIVE PERFORMANCE IN THE SPIRIT OF THE BANSHEES AND POLICE.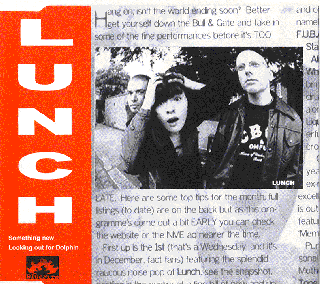 ™FUJIE, A JAPANESE GIRL, AND STEVE, A NATIVE, MET IN NORTH
LONDON AND SET ABOUT SONGWRITING AND DEVELOPING THEIR SOUND,
ENLISTING ITALIAN LUCA INTO THE FOLD, ONE YEAR AGO, TO TAKE
CARE OF BUSINESS ON DRUMS.
™THEY HAVE A CHARISMATIC STAGE PRESENCE FRONTED BY FUJIE, A
DEFINITE STAR. SHE DRIVE ROCK BASS GROOVEE THROUGH THE SONGS
LIKE AN UNSTOPPABLE TRACTOR OVER OPEN THE DROM KIT BY LUCA
AND STEVE'S WAVES OF MARSHALL ENTRUSTED, RIFFOLA GUITAR.
™YOU WILL BE SPELLBOUND BY THE WHOLE BRUTAL AND SENSITIVE
SOUND. FUJIE'S VOICE IS MYSTERIOUS AND POWERFUL. HER SONGWRITING
HAS A MISSION AND A MESSAGE AND IS INSTANTLY ACCESSIBLE.
CAMBRIDGE'S REPEAT FANZINE ISSUE 13
LUNCH ARE AN INTERNATIONAL ROCK SQUAD. THEY PRODUCE AN
AWESOME LIVE SOUND AND FUJIE HAS ONE OF THE MOST UNIQUE
VOICES YOU'RE LIKELY TO HEAR. I WILL DEFINITELY BE HAVING
MORE LUNCH.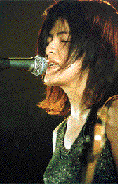 ORGAN E ZINE
ENERGETIC GUITAR DRIVEN POWER POP. EXPLOSIVE, TUNE LADEN AND
FRONTED BY A SCREAMING JAPANESE GIRL, WHO IN HER MORE RESTRAINED
MORMENTS HAS A REALLY GOOD VOICE-HOPE SHE DOESN'T GET TOOOOOO
RESTRAINED.
CIRCULT MAGAZINE
THEY PRODUCED AN AURAL DELIGHT. VERY DIFFICULT TO DESCRIBE WHAT
THEY SOUNDED LIKE............FAST, ENERGETIC AND HAD A VERY LOUD CLEAR
GUITAR SOUND. I WON'T SAY THAT LUNCH ARE ORINAL, BUT I CAN'T THINK
OF BANDS THAT THEY SOUND LIKE.