Vis the Spoon
And the Snakebite City Allstars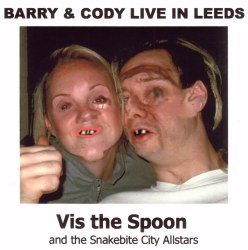 Long standing Snakebite City associate & friend-to-the-stars Vis the Spoon was for 2 years the poet in residence on ITV's late night magazine programme SHIFT. He is currently a chat-show host on Central London's Resonance 104.4FM as well as regular DJ & MC at legendary East London venue, The Foundry. He has appeared numerous times as both compere & poet at festivals such as Glastonbury, Guilfest, Megadog, Truck Fest and Strawberry Fair.
"Barry & Cody..." is his debut album and consists of 10 tracks of his poetry (an often hilarious hybrid of Spike Milligan, John Cooper Clarke and Pam Ayres on Special Brew) backed with specially comissioned electronic reworkings of tracks from the quasi-legendary and majoritively punky Snakebite City compilations (also available on Bluefire).
album tracklisting:
Consider the Bathmat
She's On Prozac
A Really Dodgy Do
Marakesh Express
Vit-a-Bob
Transience
Brian Eno's Nose Knows
The Man Upstairs
Missing Person
O.C.S
Features musical contributions from:
SPEED URCHIN, TWISTER, CRACKOUT, JC REGULATOR, WHO MOVED THE GROUND? and many more !
I AM THE NEW MESSIAH - ANY CHANCE OF A BLOW JOB ?
The

Vis the Spoon

story.

Vis the Spoon was born the impoverished son of a bottle polisher and shoe-stealer in the dingy backwoods of Weston-Super-Mare. Abandoned as a six-year-old, he took several crap jobs in tree-climbing firms before making a killing in the half-penny chews and breakfast cereal tasting business. Implanted with a low-grade middle-class chip at the age of 18 and sent forth into the world to pontificate, Vis formed his first rock'n'roll band, Backlash!, in Woking, and set about becoming an entertainer.
In 1992 Vis produced 6 issues of `Strewth! The Cat's on Fire!', a 4-page fanzine dedicated purely to local bands from around the Surrey/Hampshire border, and the trick worked. Backlash!'s self-styled fast & furious post-punk indie rock'n'roll came to the attention of Bluefire Records (as was) as the first Snakebite City was being dreamed up, and a long standing relationship was born when two Backlash! tunes appeared on SnakebiteCity1. Fuelled by recreational pharmaceuticals and unable to sleep, or shut up in the presence of more exhausted associates, Vis turned to writing poetry to avoid a good kicking. Out on the road again with Backlash! it wasn't long before someone broke a string and Vis was filling the gap with his first live poetry reading. Within a year he was compering the first and only Woking Buskathon and within another 2 Backlash! had folded (after a legendary appearance on Snakebite City 2) leaving Vis with a pile of crap poems and no-one to read them to. In 1995 Vis moved to London and found himself doing the stand-up comedy circuit for a year, on the back of some dubious advice that he could make an easy £30 a night.
Although this wasn't the case, his hilarious poetry, fusing the best elements of John Cooper Clarke and Spike Milligan, with a dash of Pam Ayres on ketamine, brought him to the attention of Carlton TV. By 1997 Vis had a weekly spot on Shift, which went out on ITV at 3am every Thursday morning - hardly prime time, but it seemed like the big time was just around the corner.
It wasn't. Instead, Vis found himself on the blower to Paul Bluefire for the first time since Paul had left Backlash! off Snakebite City 3 after hearing a scurrilous (and untrue) rumour that they had `gone techno'. As coincidence would have it, Paul was just starting the Snakebite City club at Islington's Red Eye. Vis popped along to compere, and was welcomed once more into the bosom of the Bluefire family, where he still snuggles late into the drunken night. Vis has remained Bluefire's compere de choice ever since and has appeared regularly on the Snakebite City compilations from SBC8 onwards.
Vis also comperes the festival circuit every summer as compere-in-residence for dodgy Guildford based techno-hippies GuilFIN, whom he loves like a second family, but as long as a sentence justifiably contains the word hippy Vis contends it should also contain the word dodgy. To this end he has frequently performed his poems "I'm Not a Fucking Hippy" and "What A Load of Hippy Bollix".
Having released "Barry&Cody" and 2 Gusset CDs (in collaboration with drum&bass recluse Flavius da Vinci), in 2003 Vis picked up his guitar for the first time in 5 years and is once again planning for punk-rock world domination with his brand new band Electricity Comes From Other Planets (www.ecfop.com). 2005 will see ECFOP claiming the World's Favourite Band crown from U2 at the same time as Vis becomes inundated with offers to co-present, among others, CD:UK, Tomorrow's World and Blue Peter.
I HATE PUNK ROCK
A night on the snakebite, a couple of smokes
A van load of schoolgirls and spiky haired blokes
Who dance on the tables though no-one can see
But seven stoned crusties, and that bloke, and me.
You're loud and you're fast and you jump up and down
But you ain't serious musicians, yer just mucking around.
I couldn't believe it when you cranked up the amps
It was bollox, toilet, a complete load of pants.
Did nobody tell you that punk-rock is dead ?
Go back to your bedrooms - play covers instead
The market's wide open, there's infinite scope
Playing this indie bollox you haven't a hope.
Three chords and a prayer just isn't enough
You're destined for obscurity like Glitterbox and Snuff.
As the Pistols could tell ya, you're flogging a dead horse
Cos I hate punk-rock.
I'm joking of course.
STUPID
I got run down by a fork-lift truck
I tried to drink a bowl of chuck
I sleep with sheep and I luvvaduck
I must be fuckin stupid.
I bought a dog and called it 'Cat'
I bought a head to fit my hat
My friends all think that I'm a twat
I must be fuckin stupid.
I tried to eat a charcoal grill
The doctor put me on the pill
I've spent me whole life standing still
I must be fuckin stupid.
I offered a copper a line of coke
He didn't seem to get the joke
I had my arse felt by a bloke
I must be fuckin stupid.
I must be fuckin stupid or else I'm fuckin weird
I sent my best friend round the bend
And now he's disappeared.
I had a damn good reason but I couldn't make it rhyme
This Turkish bird upset some Kurds and wheysted all my time.
I went to Berlin for the Love Parade
Couldn't move in the sun, couldn't move in the shade
I couldn't get out and I couldn't get laid
I must be fuckin stupid.
There were loads of blokes called Hans and Fritz
I got completely off my tits
My brain completely fell to bits
I must be fuckin wankered.
I went fishing and used my willy as bait
I got lost on the way to the millenium and got there late
I've forgotten how to masturbate
I must be fuckin stupid.
I wanna drink a can of paint
Get molested by Madonna - and then faint
I should be clever, but I ain't
I must be fuckin stupid.
O.C.S. CAN F.O.
I'll shake the hand of Mickey Mouse
I'll even dance to handbag house
I'll kiss the feet of Tony Blair
Sniff Maggie Thatcher's underwear
I'll forgive the Spice Girls being shite
Or being kept awake all night
I'll even forgive you for being a goth
But Ocean Colour Scene can fuck right off.
THE STUFF FROM INBETWEEN
I heard you'd given up the ghost
To lie between two bits of toast
And all the stuff from inbetween
Oozed from you just like margerine.
You are not fruit, you are not veg
Your name's not Dave or Steve or Reg
But all the stuff from inbetween
Spurts out of you like margerine.
But now I'm older, 10 years later
Riding on an escalator
I saw you coming the other way
And knew that I just had to say
"I know you speak a second language !
I saw you lurking in a sandwich !"
And all the bits from inbetween
Oozed from you just like margerine.
I baked you whole, I watched you melt
I felt the feelings that you felt
And all the stuff from inbetween
Oozed from me just like margerine.
And when I'd eaten I felt elated
And watched you as you masticated
And all the stuff from inbetween
Oozed from you just like margerine.
ZONES 1 - 6 (and Beyond)
I've got some friends in Redbridge
Who claim the bridge is brown
And all the tunnels underneath
Lead straight to Twyford Down.
I've never tried to Turnham Green
But once I Maida Vale
Cos I don't care if Leicester('s) Square
And nor does Colindale.
So what did Shoreditch, where does Mile End ?
Where can Belsize Park ?
How do you Baker Street or Hanger Lane out
After dark ?
Well Colliers Wood call Clapham Common
But what got Hatton Cross ?
Unless Earl's Court me out again
I couldn't give a toss.
A BEARD
It's strange how time can change a girl
There's one I fancied lots
She was perfection personified
No greasy hair, no spots
She was the sweetest filly that her folks had ever reared
But she ain't so pretty now
The silly bitch has grown a beard.
MISSING PERSON
I looked for you in Tescos and I looked for you at home
I looked for you in Saffron Walden and I looked 4U in Rome
I walked down Leyton High Road and I looked in every car
I couldn't find you anywhere - I wonder where you are.
I looked for you in Rumbelows, I looked for you in Smiths
I looked between potatoes and in packets of crisps
I went down to the basement and looked on the top shelf
But I couldn't find you anywhere
You must be somewhere else.
I went down the allotments and I looked in every shed
I even hoped that maybe I'd wake up and find you in my bed
But you weren't around for breakfast
And you didn't come for tea
Look - I getting quite impatient
Where in God's name can you be ?
I went to see your uncle and he said you were his neice
But that's all that he would tell me so I went to the police
I looked all round the cell they threw me in when I was pissed
And now I'm sober
I remember
That you don't exist.
DEAD FROM THE WAIST DOWN
I'm dead from the waist down
I've done too many drugs
Tonight you must content yourself
With sweet nothings and hugs.
Cos Percy isn't playing ball
He's lost the inclination
I'm dead from the waist down
A strange fucking sensation.
I'm dead from the waist down
I feel a tad distracted
I made a statement of my lust
Immediately retracted.
Cos I got it up real quickly
But lost it even faster
I'm dead from the waist down
A real fucking disaster.
I'm dead from the waist down
Pissed as a cunt
It's a shame it ain't deliberate
It's a cunning fucking stunt.
I was overjoyed to see you
But under-qualified to fuck
Cos I'm dead from the waist down
Just my fucking luck.
DORIS
She came from darkest Dorking
Her hair was white as snow
I met her in the departure lounge
Terminal 1 - Heathrow.
She said her name was Doris
I told her mine was John
We danced around the baggage hall
With next to nothing on
She only had a G-string
And I just had an E
We sang the blues without our shoes
And felt quite luvverly.
Between the bags we smoked our fags
And got quite well acquainted
I said You're lush !
But on a rush
She went quite red and fainted.
I've often wondered where she went
She never wrote a letter
But I just hope she smoked some dope
And now she's feeling better.
Yeah I've often wondered where she went
Perhaps to Epping Forest
But I was wrong - my name's not John
And hers ain't even Doris.
YOU SHOULD BE MADE OF RUBBER
You're always moving stuff around
It wakes me up, it gets me down
Why must you be so bloody loud ?
You should be made of rubber.
You wake me up at 8am
You're gone by 9, but it's too late then
I can't get to sleep again
You should be made of rubber.
You should be made of rubber
Cos it's bouncy and it's quiet
So if you ever see a rubber body
You should buy it
You're loud and brash, you bang and crash
You really can't deny it.
(Don't worry 'bout the colour
You can take it home & dye it)
You drag your gear along the hall
It seems to bounce off every wall
I just can't get to sleep at all
You should be made of rubber.
You frogmarch up and down the stairs
As if you haven't got a care
Please don't sit down, you'll break the chair
You should be made of rubber.
I always know it must be you
I've seen the floorboards coming thru
The ceiling as they often do
You should be made of rubber.
One day this house will all fall down...
And it'll be your fault !
You shouldn't be so fucking loud
You should be made of rubber.
EVERYBODY'S UP THE DUFF
Pop stars with expanding guts
The dirty copulating sluts
1 Baby Spice was quite enough
Till half the band was up the duff.
On TV and on every street
They've all been sitting on the meat
It only takes one sperm per muff
Then everybody's up the duff.
From stuck-up schoolgirls on Hampstead Heath
Who get stuck up from underneath
To East End home girls hangin' tuff
The whole of London's up the duff
In broken homes across the land
Their parents try to understand
How did she get that swollen belly ?
It didn't come from watching telly
She caught it from the toilet seat
She doesn't shag - she's far too sweet
But no, she's a well known bit of fluff
And it's well known, she's up the duff.
Between the sheets the sin continues
Bones collide entwined in sinew
A fluid exchange is on the menu
If you'd asked it coulda bin you
Behind the bike sheds, down in the bunker
Lack of contraception sunk ya
He got you drunk, you liked it rough
And now he's got you up the duff
So next time you fancy a beef injection
Try using some contraception
Cos everybody down the pub
Knows somebody who's in the club
It's got fuck all to do with love
The whole wide world is up the duff.
I THINK I NEED SOME DRUGS
The world is spinning round again
My feet don't touch the floor
I'm shaking all the time
And I can't focus anymore.
It's getting hot inside my coat
Nothing seems to float my boat
And everybody gets my goat
I think I need some drugs.
The people in the street have turned
A funny shade of white
I can't get out of bed all day
Or into it at night.
My feet are cold inside my boots
My parents are as bald as coots
My friends are all as pissed as newts
I think I need some drugs.
The buses never run on time
The trains have been derailed
All my bridges have been burned
And all my ships have sailed.
My brain's gone soft inside my skull
The scenery is really dull
And you lot can all go to Hull
I think I need some drugs.
A VERY DODGY DO
A dodgy time was had by all
Just outside Clapham Junction
We all got sloshed and then we moshed
Like at some metallers' function.
The E's were scarce, the kids wore flares
I found no trace of passion
Just snogs with dogs who dribbled lots
Like saliva was going out of fashion.
The party rocked, the door got locked
I was stranded in the bedrooom
My drink was spiked with something I liked
And I soon ran out of headroom.
Your features fused, I got confused
I thought you were a copper
This slag was desperate for a shag
And I was powerless to stop her.
The bass was boomin, there was no room in
The house that I could mention
I cried out loud, "Look ! George O'Dowd"
But no-one paid any attention
Till we got stoned to dub and Culture Club
Reformed to try some skanking
But as you'd expect it was well suspect
Tantamount to musical wanking.
The Human League and ABC appeared from out of the kazi
John McEnroe was smoking blow
With Bjorn Borg and Ille Nastase
An aeroplane flew in from Spain
And landed in the garden
My brain went soft so I put it in the loft
And left it there to harden.
The girls were nude and terribly rude
They indulged in all kinds of behaviour
The cakes were iced by Jesus Christ
Our ubiquitous Lord and saviour.
Then John Wayne Bobbit grabbed hold of his knob
It was sewn on all wrong and looked silly
But it serves him right for trying to fight
His wife and a knife with his willy.
The drinks were drunk, we caned the skunk
The beds had all been taken
The host was shocked to find the toilet blocked
With Vol au Vents and bacon
The law arrived, came on contrived
And acted all arty-farty
Then slapped our heads until they bled
And that was the end of the party.
BLITHERING IDIOT (Talking Shite)
He's got the best, he's fucked the rest
Feathered his nest with hair from his chest
He keeps the neighbours up all night
He's a blithering idiot
Talking shite.
He's on the go - he knows, you know
A flesh and bone Pinnochio
It makes no sense to be polite
He's a blithering idiot
Talking shite.
A lager lout you can do without
There is no doubt, but there's no way out
No plausible means of escape in sight
He's a blithering idiot
Talking shite.
He's lost the plot, he should be shot
He's got a lot worth saying. NOT !
He should be dropped from a great height
He's a blithering idiot
Talking shite.
A hopeless case, a verbal race
To fit 21 words in a 2 word space
And still he can't quite get it right
He's a blithering idiot
Talking shite.
A cattle-like herd of ridiculous words
That pick at your brain like a million birds
Your chance of survival is scarily slight
He's a blithering idiot
Talking shite.
He won't give up without a fight
He's a blithering idiot
Talking shite.
TRASH-CAN SINATRA
I met this dude from Turkistan
Living in a trash-can
Called himself Sinatra
Said he read a lot of Jean-Paul Sartre
Said: Jesus was a martyr
He died for all our sins
He was born in a stable
He never had cable
And that's why I live in bins.
KARAOKE KAMIKAZI
He'd rather croon than have a fight
He's out of tune but that's alright
He's met with claps and loud 'Hurrah's, he's
Karaoke Kamikazi
The Essex girls all know his name
And every ballad is fair game
Cos he's had one too many jars, he's
Karaoke Kamikazi
Blessed with a gift to entertain
And get completely out his brain
A wand'rin' minstrel of the bars, he's
Karaoke Kamikazi
A singing voice like rancid shite
Delivers 'Wonderful Tonight'
A total fucking bunch of arse, he's
Karaoke Kamikazi
I'm sure by now you get the gist
A room of various piss artists
Now that's what I call musical farce, he's
Karaoke Kamikazi.