The Roolettes
Album Release - 8th September 2003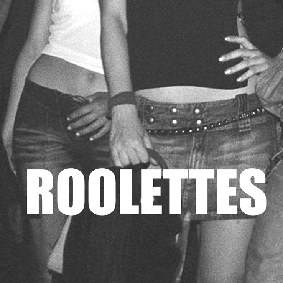 The Roolettes - Roolettes
Catalogue Number - blu30
London based Anglo-Italian motown garage punks The Roolettes release their debut album full of the wildest sweatbreak, petrol charged motown punk sounds around. The Roolettes feature Fio Marino on bass and vocals, Ed Sonsino on guitar, and Jimmy Lacey on drums and vocals. They have recently finished a tour including dates in Sweden, Germany, Italy and the UK. A 10 date UK tour is anticipated in October, followed by a mini tour of Italy and an appearance at the Wild Weekend Festival in Spain.
"The sound of London" - Organ Art Magazine
"Killer rock n roll tunes" - Caught In The Crossfire Magazine
"Charged up, sweat-breaking, high octane rock'n'roll... The Roolettes ROCK" - Drowned In Sound Webzine
"a sleazy fusion of straight up punk, classic garage hooks and glamour...they sneer and slur their way through innuendo-stuffed homage's to rock'n'roll & girls" - Bubblegum Slut Fanzine
"The Italian Stallions of Rock...unmissable punk rock mayhem" - Artrocker
"Fantastic short, sharp punk rock songs" - Claire Sturgess, XFM
for further information visit
www.roolettes.co.uk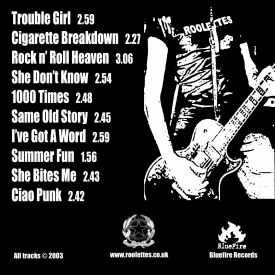 The Roolettes- reviewed in Sleazegrinder US fanzine - Oct 2003
The name might lead you to believe that there's some actually 'ettes' on deck, but the only chicks involved are all in the front row, shaking their moneymakers and a doffing their tops. Well, on a good night, anyway. The Roolettes are a buncha of fast, fucked, and furious rock and roll savages from the wilds of London. The real one. I first heard 'em on the rather bitchin' "An Hour with Bubblegum Slut" comp, and I was plenty impressed with their sugar-powered sleaze n' roll. Everybody has a good day here and there, though, so I was hoping they'd be able to pull off the slinky sex party action over the long haul. Well baby, they do not disappoint here. Somewhere in the sweet spot between the early, incendiary, wrist-slashing Manic Street Preachers and the pre-pop metal Backyard Babies lies the Roolettes sound, full of catchy pop hooks and dirty riffs and classic rock and roll melodies. Ed Sonsino's guitar veers wildly from a Wrathchild-esque flash metal crunch to a pogo-punking Ramones thrash without even blinking, and Fio Marino's plentiful "fa la la's" and "hey heys" and "woo woos" are the perfect counterpoint to all the razor riffing- he's snotty, sure, but if you look real close, you'll catch him winking. Just like Joey and Johnny taught him, I reckon. Anyway, every song is about rock and roll, and they all sound that way, too. "Summer Fun" is the biggest nod to their Noo Yawk heroes, "Rock n' Roll Heaven" is the catchiest anthem, and "Cigarette Breakdown" makes the most sense, on many levels. But they're all pretty fuckin' cool, daddio. I'm tempted to say "Roolettes rool" here, but I'm sure half a dozen rock-journo hacks already beat me to it. It's true, though.